Learn More About CSA
UC'S Construction Student Association
The Construction Student Association (CSA) is a student group organization at the University of Cincinnati that helps bring together like minded individuals within the construction industry. The purpose of CSA is to teach students about the construction field and the opportunities it holds. CSA was originally brought to the University of Cincinnati by Professor George Suckarieh in 1991. George saw a gap with the curriculum and the co-op programs, so he decided early on in his career that he would help educate students of the amazing future the construction industry holds. CSA has developed into an "umbrella organization" that reaches to all aspects of the industry with the help from numerous national organizations. CSA helps students get involved through student competitions, community service, and so many more opportunities. Our general body meetings are every 2-3 weeks and held in Braunstein 301 from 6-7 PM. These meetings are open to all students who are interested in getting involved with the organization and want to learn more about the construction industry.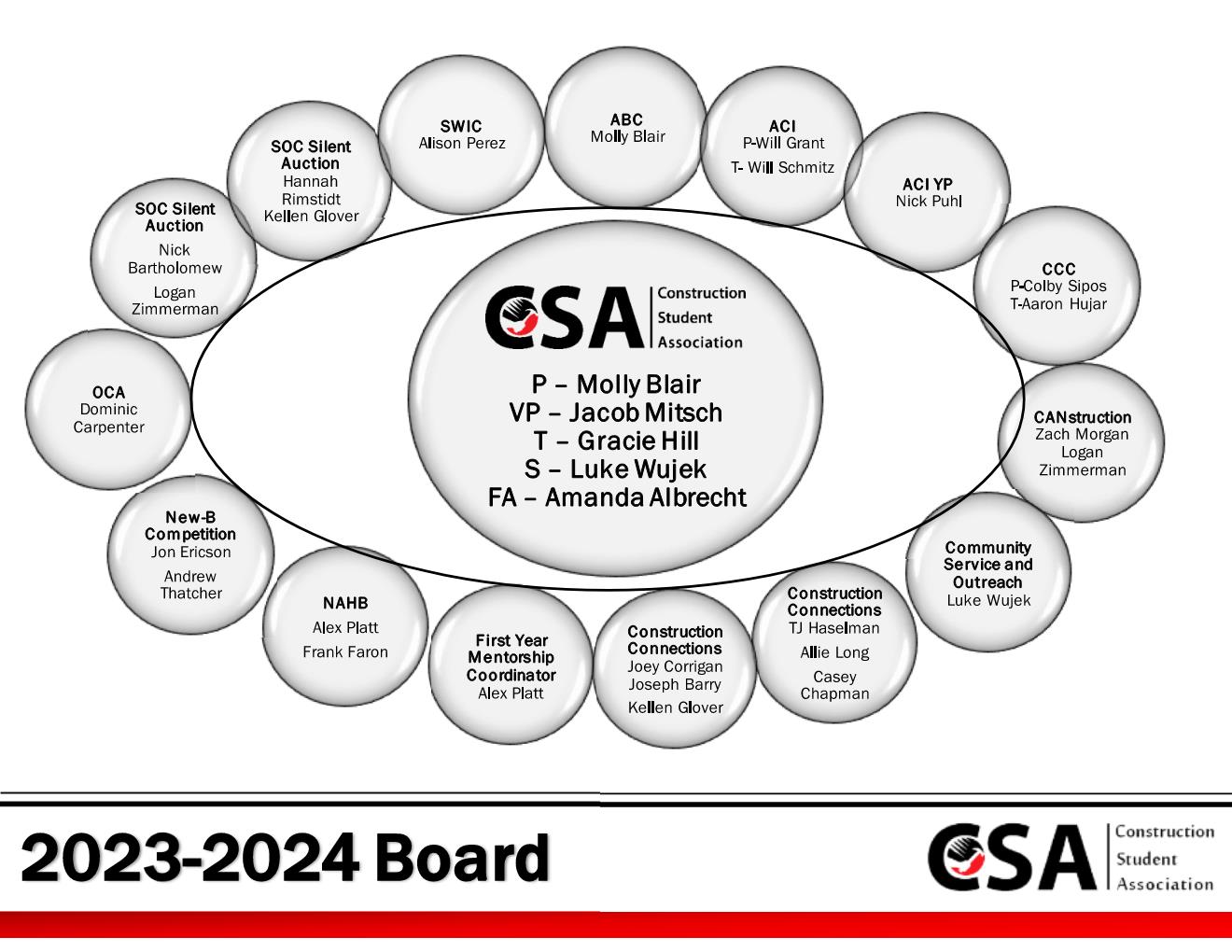 National Competition Awards
Join
How to Become a Member
All students are allowed to become a member of CSA and don't have to pay any sort of fees when doing so. We encourage those who are interested in joining to be enrolled in a major that has some sort of connection to the construction industry.
In the early parts of the spring semester, CSA holds elections for all the officer and executive positions for that upcoming fall semester. In order to become an officer, you will need to send in an application on why you should be elected for that position. 
Elected officers and executives will have monthly meetings in order to discuss their progression and any concerns they have about their position or the organization as a whole.
Majors Associated with CSA
Architectural Engineering
Office
Rhodes Hall, Room 445
University of Cincinnati
General Meeting Location
Bruanstein 301
University of Cincinnati
General Body Meeting Times