Register for Competitions
UC's Construction Student Association
October 20 – 23 2021
Chicago
ASC Chicago
(Heavy Highway, Design Build, Commercial)
Students receive an RFP and have to complete an entire project proposal including a completed schedule, estimate, and presentation within 18 hours.
Fall Semester
2021
Las Vegas
DBIA
(Design Build)
The 20 days prior to the competition are used to compete in the regional competition completing a full project schedule, estimate, means and methods, project plan, etc. If the team is selected as the best team in their region, they will be flown to Denver to compete in the National competition presenting your project to a panel of judges.
Febuary 2 – 3
2022
Orlando
NAHB
(Residential)
A full residential development is planned, estimated and scheduled, including a marketing plan, green construction initiatives, and architectural designs of houses, amenities and entrance monuments. This project takes a whole semester to complete.
February
2022
University of Cincinnati Campus 
New Builders
(Residential, Commercial, Heavy Civil)
The New Builders competition is for 1st to 3rd year students to get the opportunity to get an introduction into construction competitions and processes within the industry. It entails a written proposal and corresponding presentation that will be presented in front of industry professionals from the various tracks
.
February 25-26
2022
Columbus 
OCA
(Heavy Highway)
A follow up to the ASC Heavy Highway team, again a one day competition over the span of 12 hours. The project is again routed, scheduled, estimated, and planned to be presented to a panel of judges
March 15-17
2022
San Antonio
ABC National
(Commercial)
Team spends a month scheduling, estimating, planning, and modeling (4D) a high priority project. The team then flies down to Orlando where they are given an addendum that creates a drastic change in their project. The team has 12 hours to adjust their schedule estimate and plan accordingly. A presentation is then given on the final project to a panel of judges with other leaders in industry in attendance.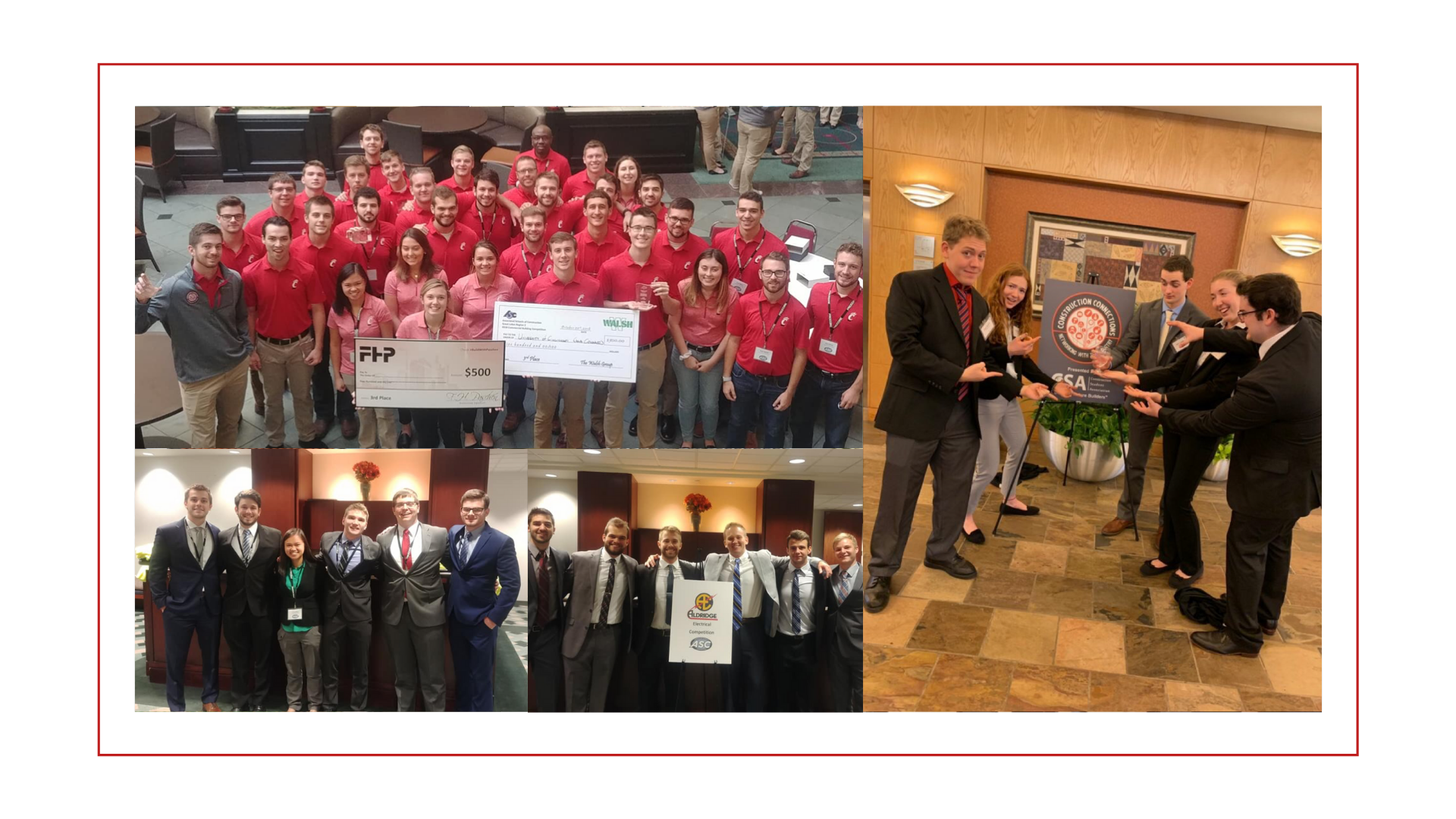 Office
Old Chem Building, Room 839
University of Cincinnati