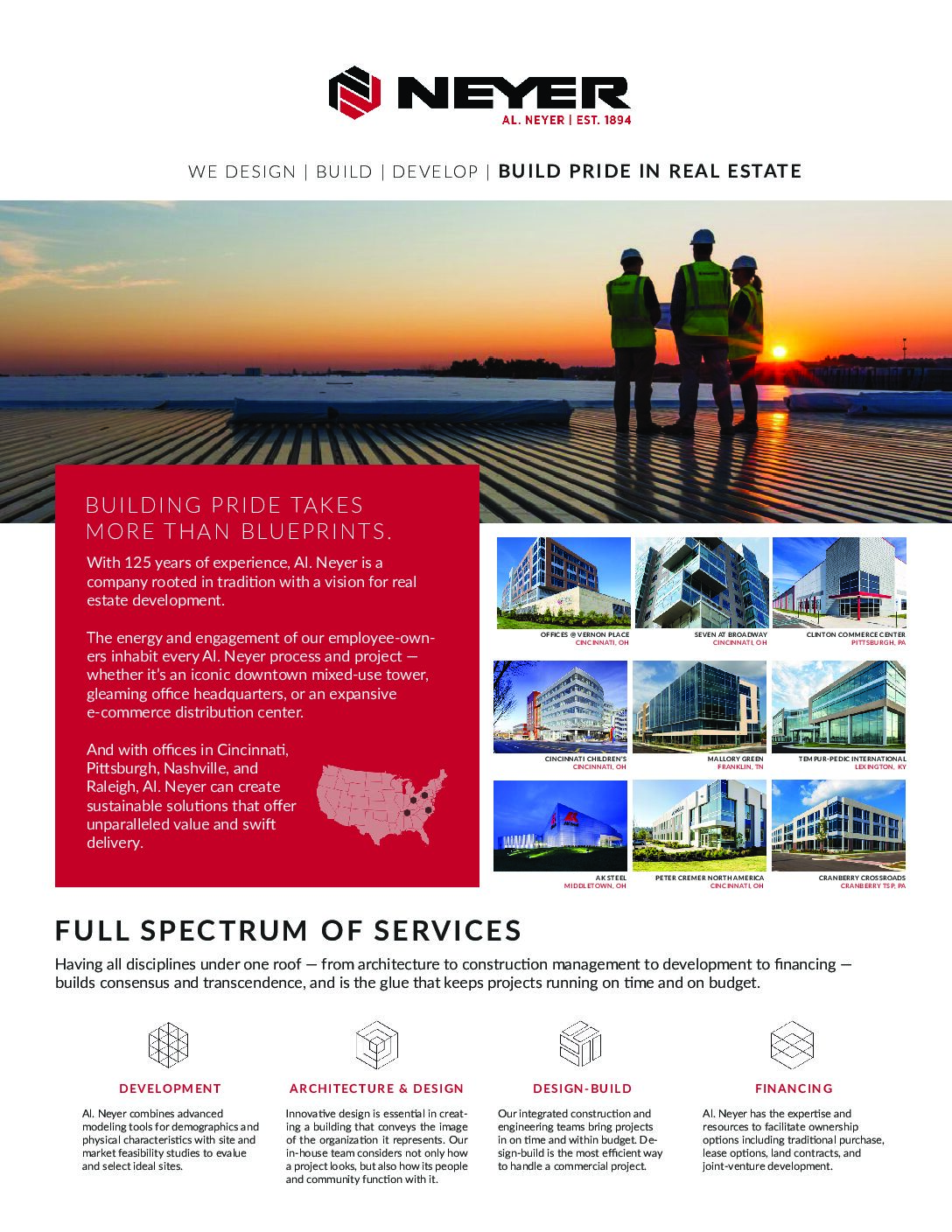 About Al. Neyer: 
For more than 125 years, Al. Neyer has offered a diverse set of real estate development and design-build construction solutions for commercial clients. Established in 1894 and employee-owned since 2014, the company specializes in build-to-suit and speculative commercial projects, including industrial facilities, office and medical buildings, multi-unit residential, as well as urban mixed-use developments. Al. Neyer has been continually recognized for its ability to provide greater value, high-quality and faster project delivery. Al. Neyer has offices in Cincinnati, Pittsburgh, Nashville, and Raleigh, and serves a local, regional, and national client base. Learn more by visiting www.neyer.com.
Website: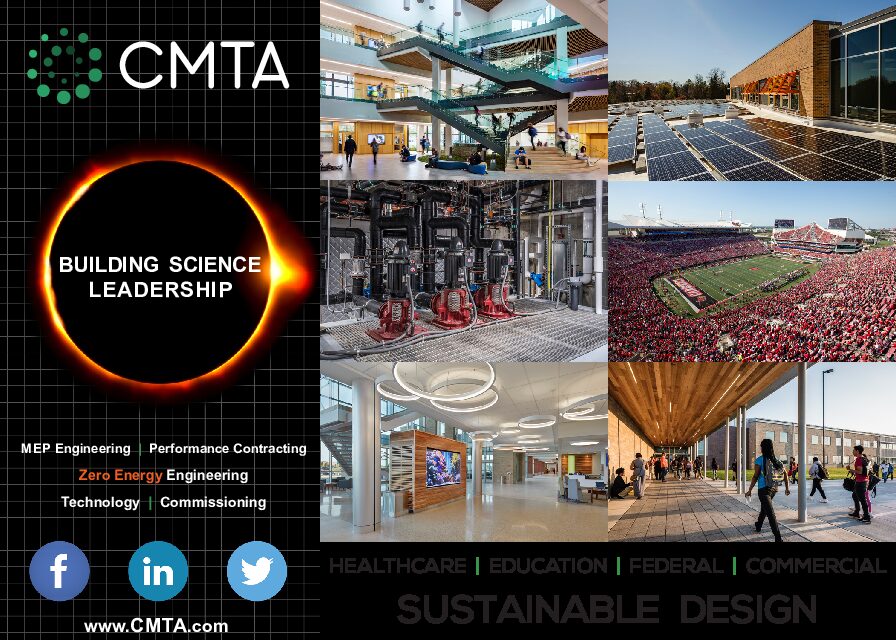 About CMTA: 
CMTA is a MEP design firm with a sustainable design focus.
Website: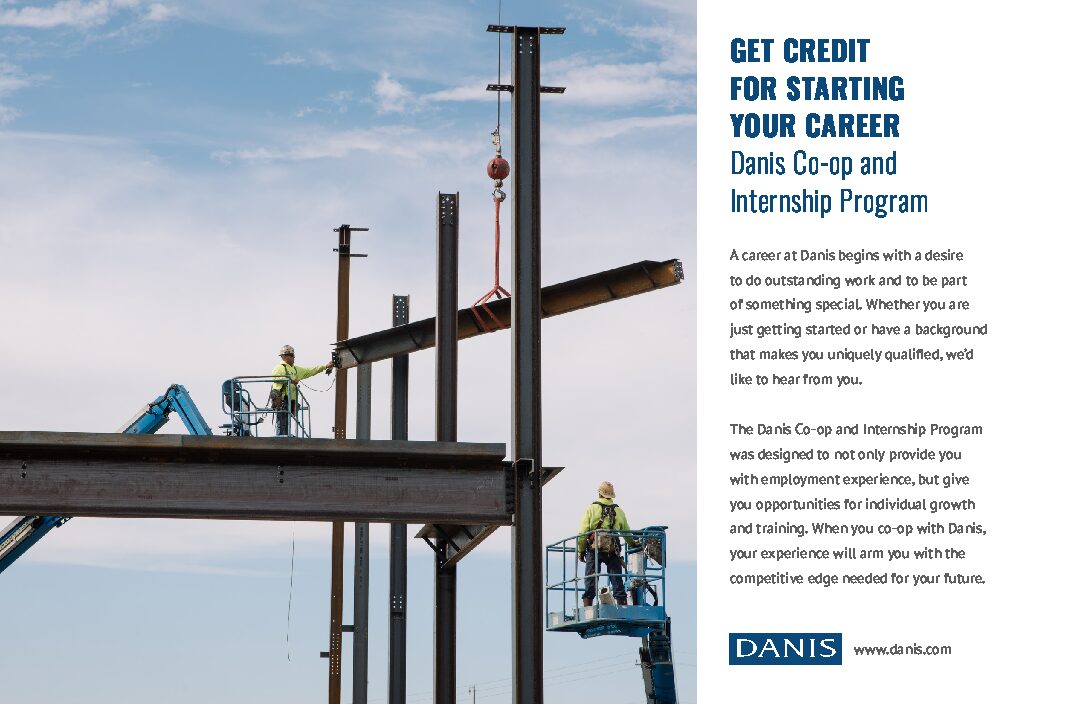 About Danis: 
Founded in 1916 by B.G. Danis, the Danis Group of Companies (Danis) is a third generation, privately owned company based in Dayton, Ohio. Danis serves the Midwest and Southeast regions of our country, specializing in public and private building and industrial projects. Danis offers expertise in construction management, general construction, design/build, and build-to-suit lease-back, as well as experience in the corporate, healthcare, senior living, education, retail, hospitality/entertainment, and industrial markets. The Danis Group of Companies operates five offices located in Ohio, North Carolina, and Florida. Throughout the company's history, Danis has received praise for its quality work and service, its timely delivery, and ability to remain under the project budget. Danis prides itself with meeting client challenges, whether they are budgets, tight schedules, difficult site conditions or unique designs, and boasts an 85% repeat customer rate. Since 1916, Danis has been privileged to work on some of the most recognizable and high-profile commercial buildings and industrial projects in the Midwest, Southeast, and Carolinas. Our work includes partnerships with Fortune 500 Companies, rapidly expanding healthcare systems, and distinguished universities.
Website: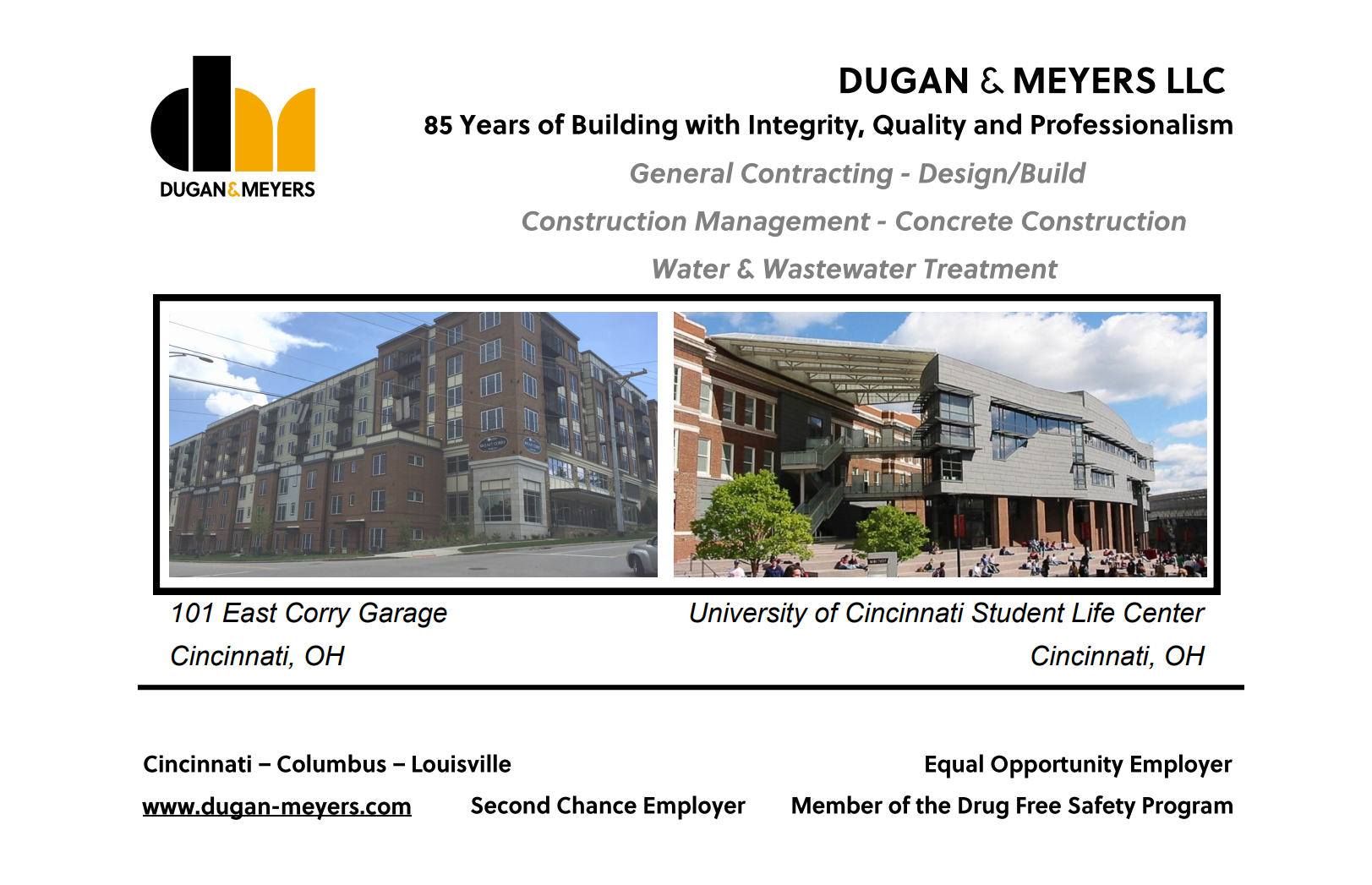 About Dugan & Meyers: 
Established in 1935, Dugan & Meyers maintains a diverse portfolio of high-quality projects. Quality and predictability are the hallmarks of our projects, and we safeguard our valued construction reputation by focusing on the expectations of our clients. Throughout our successful history, we have constructed numerous commercial, institutional, and manufacturing buildings, mixed-use facilities, parking structures, renovations, additions, interior fit-outs, water and wastewater treatment plants and other heavy industrial projects throughout the Midwest. We specialize in General Construction, Construction Management, Design Build, Water and Wastewater Construction and Concrete Construction. We offer a whole range of preconstruction services. In early 2017, Dugan & Meyers became a wholly owned subsidiary of Baker Construction Enterprises, Inc.
Website: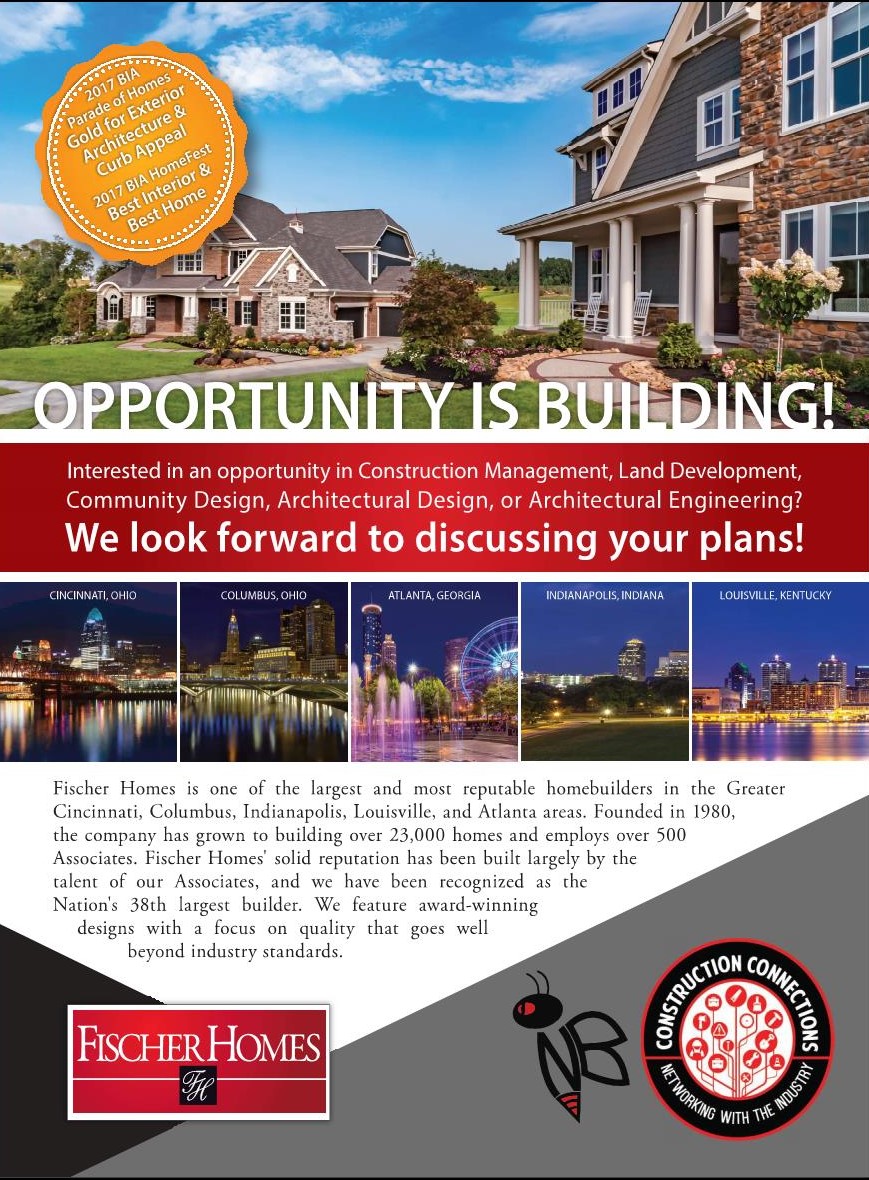 About Fischer Homes: 
Fischer Homes is one of the largest and most reputable home builders in the Midwestern and Southeastern states. Founded in 1980, the company has grown to building over 24,000 homes and employs over 550 Associates. Fischer Homes' solid reputation has been built largely by the talent of our Associates as we have been recognized as the 30th largest builder in the United States. Within the Fischer Homes organization, we value diversity and see each Associate as a team member and valuable asset. We select highly competent individuals to join our team, provide them the resources, training, and development possible for them to make significant contributions, and drive their own success while determining their career paths. The rewards for their efforts are advanced career opportunities with commensurate compensation packages and ultimately, the continued growth and stability of both Associates and Fischer Homes. Fischer Homes holds the highest ethical standards of business. We are honest and straightforward and will stand by our word. Our actions demonstrate respect, courtesy and above all, fairness.
Website: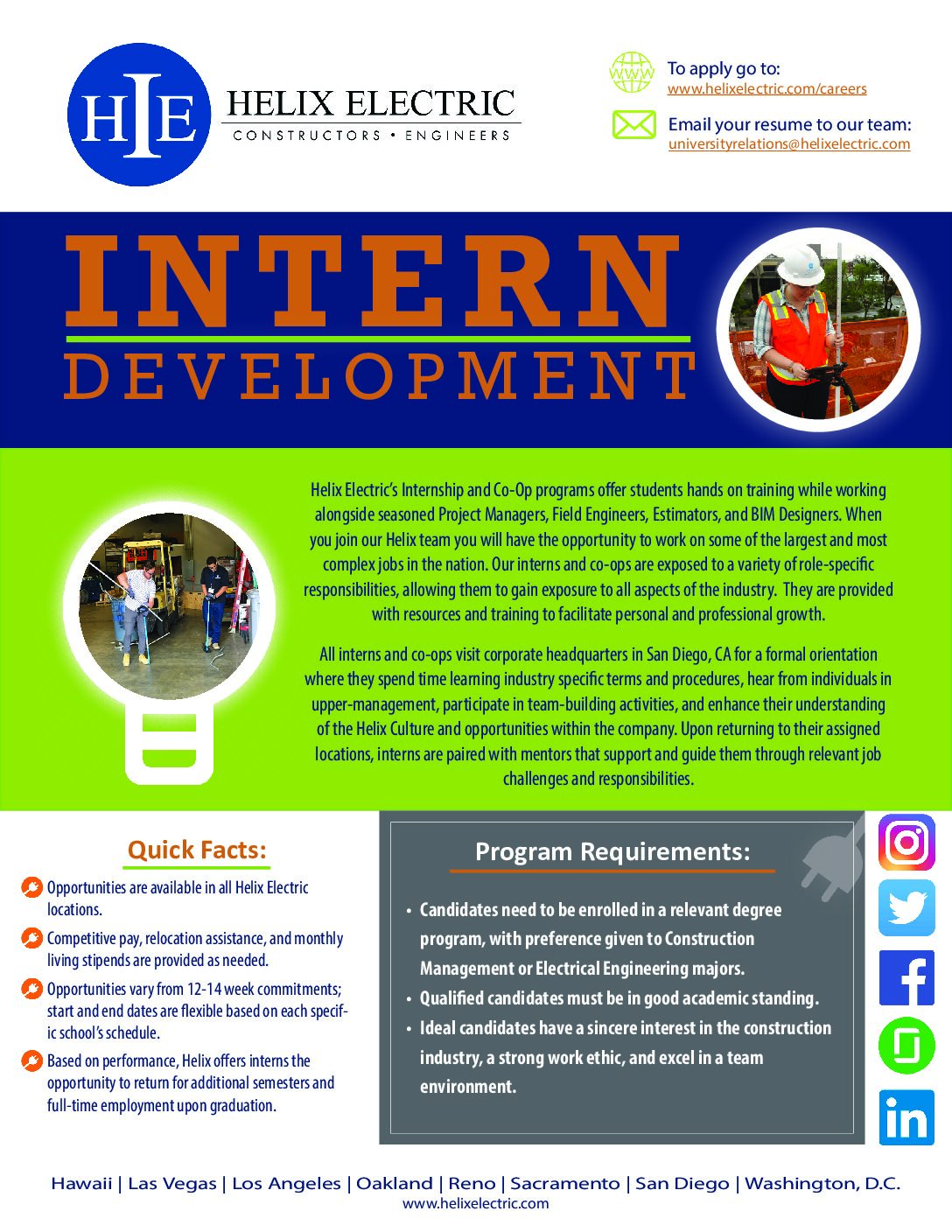 About Helix Electric: 
Helix Electric was founded in 1985 and is now one of the nation's largest and most successful electrical contracting companies. Our commitment to empowering people and powering projects is realized by our exceptional team of dedicated and highly skilled experts working together and never settling for good enough. We are proud of the team-oriented and employee-empowered business approach that defines our unique character. We are looking for passionate, reliable and ambitious talent to join our growing Helix family.
Website: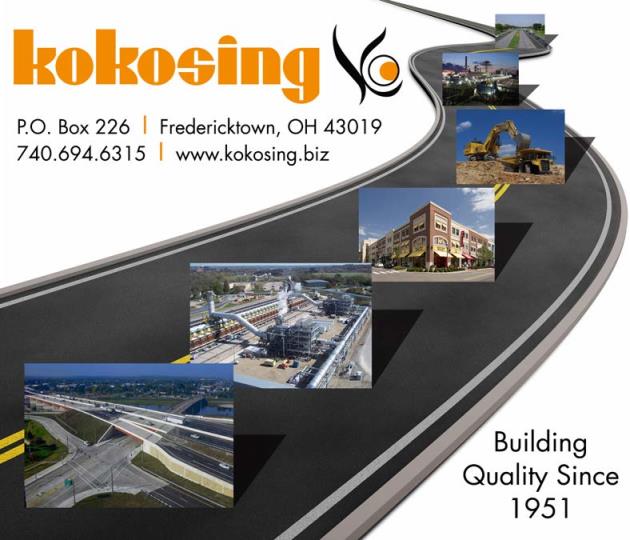 About Kokosing:
Headquartered in Westerville, Ohio, Kokosing is one of the largest family-owned construction companies in the Midwest. Kokosing's business lines include industrial, transportation, pipelines, environmental, and marine work. Kokosing family of companies is made up of multiple companies including Kokosing Industrial, Kokosing Construction Company and Corman Kokosing. Known for unwavering integrity and exceptional safety and quality, Kokosing's companies provide extensive resources for its customers. 
Website: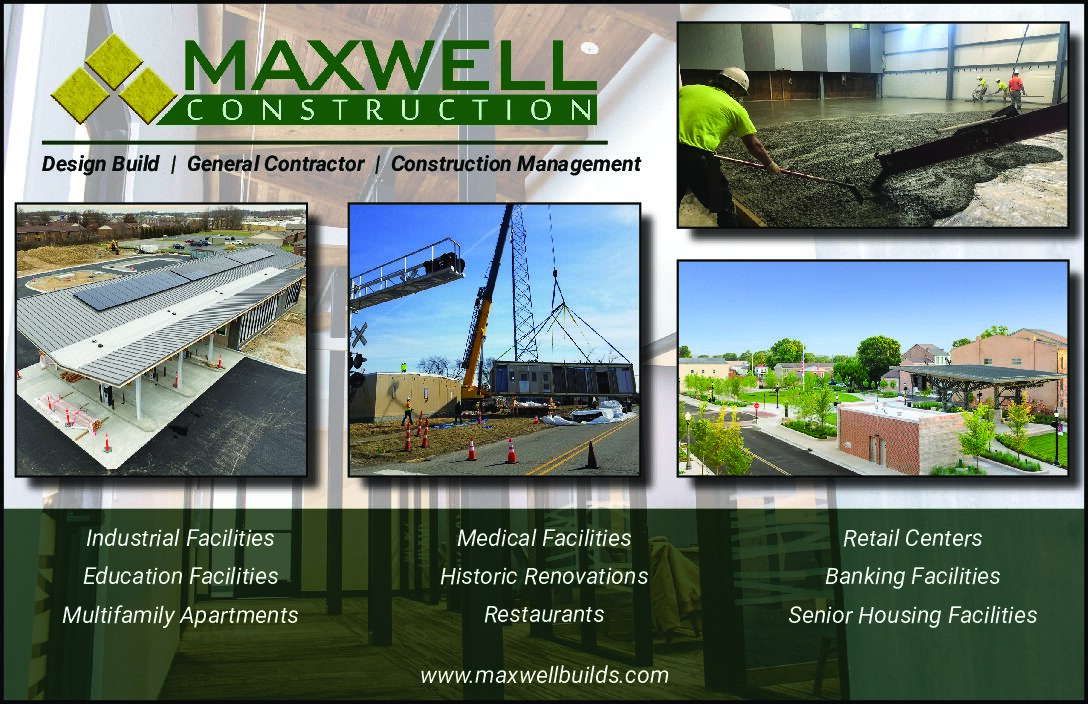 About Maxwell Construction:
For over 30 years, Maxwell Construction has leveraged our resources and experiences in a broad range of construction disciplines to give our clients the most value possible. We continue to strive towards excellence with each project by keeping our core values alive, that is to C.A.R.E. (Customer satisfaction, Attitude matters, Respect for everyone, and Excellence in reputation). Our diverse team thinks like Owners and delivers unmatched problem-solving capabilities, which allows us to meet this goal. Maxwell has extensive experience in industrial facilities, education facilities, multifamily apartments, medical facilities, historic renovations, restaurants, retail centers, banking facilities, and senior housing facilities. No matter what the delivery method, Design Build, Design Bid Build, or the Construction Management approach, Maxwell is confident in its ability to provide the superior service needed to deliver total customer satisfaction.
Website:
https://www.maxwellbuilds.com/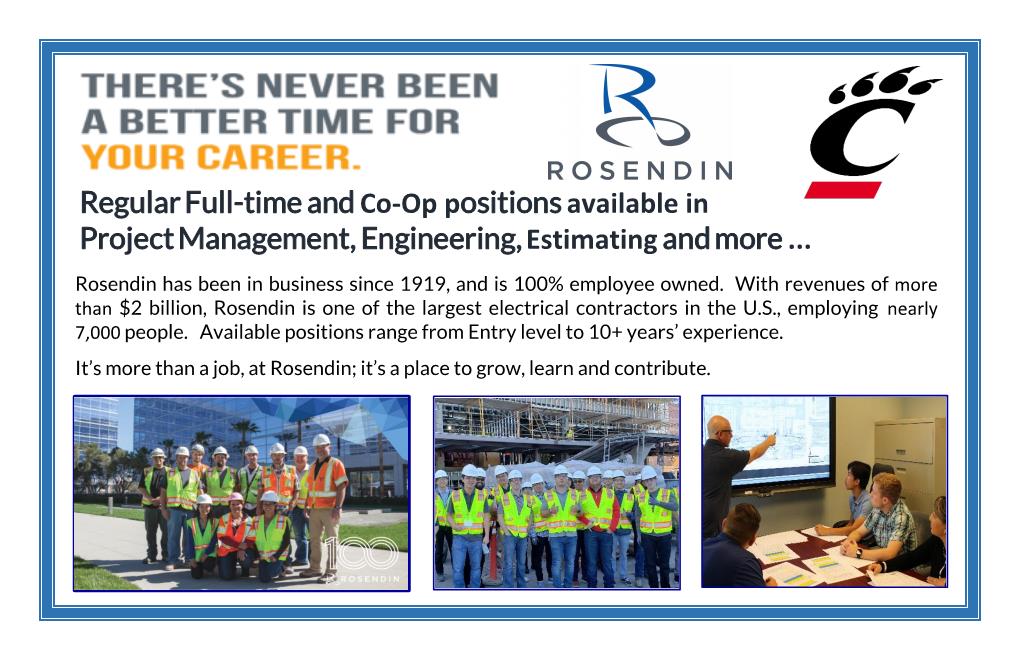 About Rosendin:
Rosendin is one of the largest electrical contractors in the United States employing over 7,000 people. We are proud to be EMPLOYEE OWNED. For more than 100 years, Rosendin has created a reputation for building quality electrical and communications installations, building value for clients, and building people within the company. Rosendin's experience in the industry sectors is well rounded and includes Data Centers, Education, Healthcare, Institutional, Renewable Energy, Transportation, Commercial, Entertainment, Telecom, Heavy Industrial, and Design-Build. 
Website: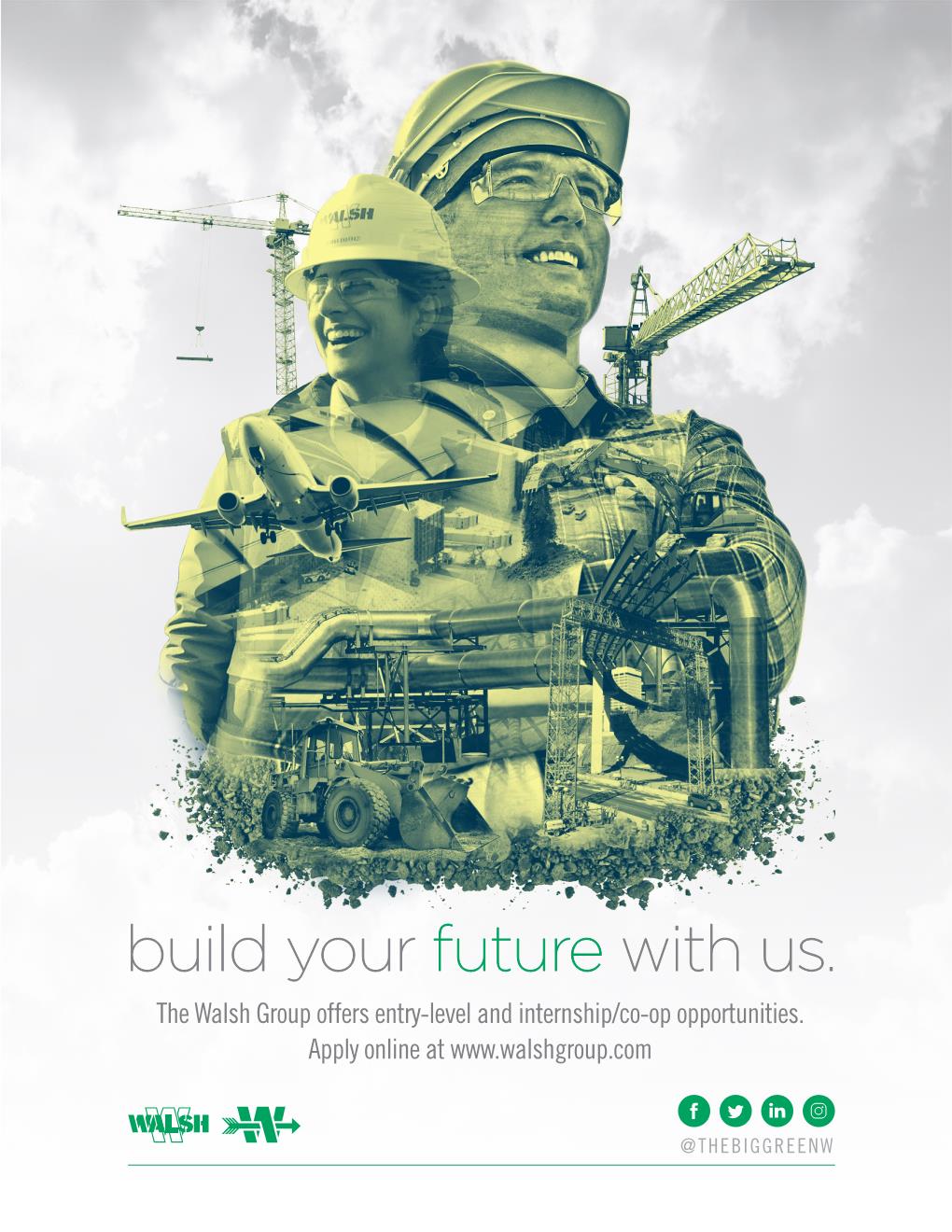 About The Walsh Group:
The Walsh Group is a fourth-generation family-owned company providing design, build, finance, operation and activation services. We operate as Walsh Construction, Archer Western and Walsh Canada across 18 regional offices. Consistently ranked as one of the largest contractors in North America, we are delivering some of the most complex and challenging projects in the building, transportation and water markets. Our 8,000 employees are united by a shared dedication to deliver exceptional customer service, while upholding the highest standards of ethics, quality and safety.
Website: